Fire Science Live-In Program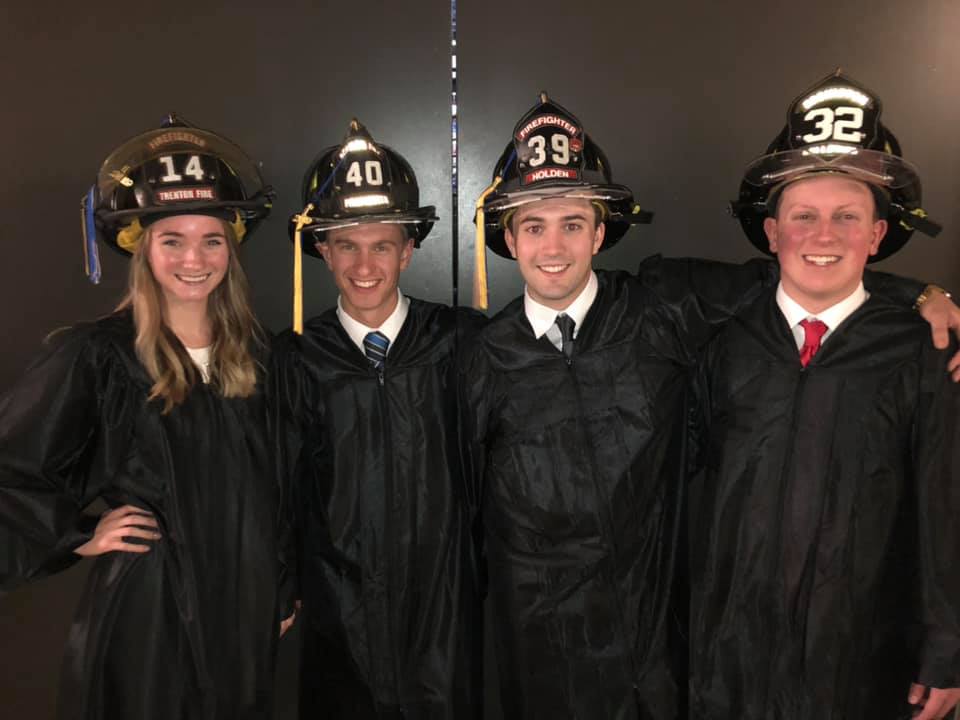 For the Live-In Application, click here.
Various area fire departments, in cooperation with Eastern Maine Community College, are pleased to offer the Fire Science Live-In Program option to our students. Students hired to live in area firehouses (rent-free) in exchange for being "on-call" during specific hours and getting paid hourly for responding to emergency calls.
Admission to the Live-In Student Firefighter Program is not guaranteed (space is limited) and depends upon a successful job interview and satisfactory completion of pre-service training. Early application for the limited live-in positions is strongly encouraged.
Live-in students have a greater persistence rate with 85% reaching graduation within three years.  Live-in students have a greater success rate in classes.  They apply what they learn on a daily basis and are career-ready when they graduate. They have access to members of their host departments that went through the program and can tutor them on topics and skills.
For more information and an application, check out the Live-In Student Firefighter Program or contact Craig Russell, crussell@emcc.edu or 207.852.7988
Applications for Student Placement are due to Craig Russell.
Any full-time EMCC student regardless of their degree program is eligible to apply.
---
Live-In Departments:
Currently, we have 8 departments around the Bangor region with a total of 14 positions. Current departments are:
Dedham: (1 position)
The Dedham/Lucerne Fire Department is a volunteer department currently staffed by 16 members. The department operates daily, with a part-time fire chief and with one full-time firefighter Monday – Friday from 8-5. We cover the weekend with Per-diem personnel working the same schedule on Saturday and Sunday from 8-5.
The Dedham/Lucerne Fire Department operates out of two stations and is equipped with 7 pieces of equipment. Engine 371, Engine 372, Rescue 378, Tankers 373 & 374, forestry trailer 377 and the Chiefs rapid response/command vehicle.
Call volume is now running well over 300 calls a year, with the 2018 calendar year finishing at 332. Members are trained with a variety of skills including Structure fires response, Chimney fire response, Wildfire response, Medical emergency response, CPR & AED use, Motor vehicle accident response, Vehicle extrication, and Coldwater rescue.
Eddington (2 positions)
The Eddington Fire Department was organized in 1974 by the citizens of Eddington. The Department provides services to the Town of Eddington and is contracted to provide services to the Town of Clifton. In total, we protect 62 square miles of land, 5.4 square miles of water (12 bodies of water), and 3,146 people. This does not include seasonal residents and visitors. The Department operates out of one station and maintains seven major pieces of equipment. This includes 2 engines, a tanker, a brush/utility truck, a non-transporting rescue, a UTV, a boat, and a traffic control/rehab shelter trailer.
The Department has two career Firefighter/EMTs who provide daytime staffing 7 days a week on a rotating schedule from 7 am-7 pm. This is supplemented by 20 paid-on-call personnel. Two Live-In Students from Eastern Maine Community College help provide daytime and nighttime coverage.
We respond to all fire, rescue, and medical emergencies. We first respond to all medical emergencies and Northern Light Medical Transport provides ambulance service to Eddington and Clifton residents. In 2018, the Eddington Fire Department responded to 443 calls. 70% of these calls were for medical assistance. We have a strong mutual aid agreement with all neighboring departments. This includes not only emergency response but training as well.
Hermon (2 positions)
The words integrity, pride, commitment, and tradition are the backbone of the Hermon Fire Department. With its mission to preserve life and property through the suppression of fires both structural and wildland, public fire education, code enforcement, response to hazardous materials incidents, Ice and cold water rescue operations, Emergency Medical First Response and emergency response to all-natural and manmade disasters, the Hermon Fire Department is always ready at a moment's notice.
Established in 1949 as a volunteer fire department by Chief Charles Smith Jr., the mission of the Hermon Fire Department has greatly expanded.
Hermon, a now well-established bedroom community to the City of Bangor, and named one of the ten fastest-growing towns in Maine, has a well-organized combination Fire Department under the direction of Chief Frank Roma and Assistant Fire Chief Eric Pelletier. The Department operates with five pieces of fire apparatus, a full-time Fire Chief, full-time Firefighter/EMT, two live-in fire science students, and 25 paid-call members. The department responds to an average of 300 calls for service annually, providing service to the town's roughly 6,500 citizens.
As a reminder, the Fire Department is a combination department providing daytime coverage Monday through Friday from 7 am to 5 pm. Someone is not always in the station, especially at night or on the weekends.
Holden (2 positons)
Holden Fire/Rescue is a combination department that serves 32 square miles and its 3,000 residents. The Town of Holden sits just to the East of the cities of Bangor and Brewer.
The Fire/Rescue department is made up of three full-time firefighters with around 15-20 call firefighters available. The department first responds to all medical-related emergencies in town and assists with transport from our out-of-town ambulance service. Our firefighters are trained to respond to all fire-related emergencies, tech rescue, and hazmat calls. Our major hazard is our very busy stretch of roadway, Route 1A. Holden has only five miles of this busy road that cuts the town almost equally in half. During a typical summer day, the Town of Holden will see close to 40,000 cars a day travel through.
The department is made up of one station located off the Main Rd (Route 1A). The department is small and connected to the backside of the town office. We have bunk in quarters where our full-time staffing and Live-In Student program work their 24-hour shifts. We operate out of two engines, one rescue, one utility pick-up, and a chief's car. We also have a department snowmobile with rescue boggin and a fully stocked forestry trailer. We do carry a full set of Holmatro extrication tools on our engine and have a large breathing air cascade that is on the rescue truck.
Our department and Town have seen steady growth over the past years. Our Main Road section continues to grow commercially and residential lots are being built daily. We respond to nearly 600 emergency calls a year and do a number of "other" related service calls as well. We have strong mutual aid agreements with all neighboring departments and constantly work together with each other on emergencies and training daily.
Milford (2 positions)
Newport (2 positions)
Newport Fire Department covers Fire and Rescue calls for the Town of Newport and is contracted to cover 1/3 of Palmyra. NFD also provides mutual aid to all surrounding communities. Newport is a growing community with 3500 full-time residents and roughly 6000 during the summer months. We average roughly 450 fire calls and 950 rescue/ ambulance calls per year. NFD is made up of mostly call Fire Fighter/EMT's. NFD has a full-time Fire Chief, Captain and 2 Live in Students. NFD has 31 call Fire Fighters who also work part-time paid shifts. Full-time personal cover the station Monday-Friday 5 am -5 pm and the station is covered by per-diem shifts overnight and weekends. NFD is partnered with Sebasticook Valley Ambulance. Sebasticook houses an Ambulance at Newport FD and Staffs a Paramedic 24/7 while NFD is responsible to provide an EMT driver 24/7. NFD has several pieces of apparatus: 2 Engines, Pumper Tanker, Brush Truck, Ladder Truck, First Response Rescue, rescue boat, Rhino, and house an ambulance. NFD shares a recently built public safety building with Newport Police Department.
Veazie (2 positions)
The Town of Veazie Fire/Rescue Department is a combination department that serves a population of approximately 2000 citizens in 4.2 square miles. Housing an engine, 110' quint and a rescue/EMS response vehicle, members of Veazie Fire/Rescue operate out of one station and provided full-time day coverage seven days a week from 7:00 am to 5:30 pm. Our 2 full-time personnel work a rotating schedule of 2 days on and 2 days off which provides for one person working each day. Additionally, our 12 part-time/on-call firefighters respond to emergency incidents and provide shift coverage as needed. On average Veazie responds to approximately 350 calls a year. These range from medical emergencies, fires, alarm activations, smoke and odor investigations, service calls, citizen assists, and mutual aid to our neighboring communities. Our response area is primarily residential however there is a strong commercial and industrial base. Within our area, we provide response to a natural gas-fired electrical power plant, concrete manufacturer company, and a tension fabric structure manufacturer. Our commercial properties include two small restaurants, a motel, a convenience store, an auto body shop, a veterinary clinic, a restaurant supply business, and a business that stores, designs, and builds granite countertops and kitchens. Veazie is also a hub for the greater Bangor area's natural gas supply.