Summer Success Academy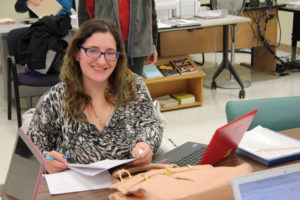 If you have been placed into a developmental math (LAM008 or LAM009) or English (LAE013) class and/or you are concerned about your readiness for college, then please consider enrolling in one of our free Summer Success Academies.  This free commuter program (limited overnight housing may be available) is designed to give students a jumpstart to their college experience.  After completing math and/or writing refresher courses, students may be eligible to bypass developmental courses.  Additionally, all students successfully completing the program will earn your next math or English class for FREE for the Fall 2019 semester!
By enrolling in our Summer Success Academy, you'll have the chance to better prepare yourself for the beginning of your college experience.  You'll form new friendships, become familiar with EMCC and its faculty and staff, and learn new things about yourself.  Your education is one of the biggest financial investments you'll ever make and taking advantage of this free program may you save you significant time and money.  Additional benefits include free lunch, educational support, and learning strategies for being successful in college.
To eligible to participate in the Summer Success Academy, you must meet the following criteria and complete an APPLICATION:
– Must be accepted to EMCC
– Completed the Accuplacer assessment and placed into developmental Math and/or English
– State of Maine resident
You have three academies to choose from.  Each academy is made up of a math session, an English session, and a First Year Experience (FYE) section.  You can enroll in just the math session of an academy, just the English session of an academy, or both the math and English sessions of an academy.  However, all students are required to participate in the FYE section for their chosen academy.  Free lunch is provided at each daytime academy and limited free snacks are provided at every academy
MIDSUMMER DAYTIME ACADEMY
Dates:  July 29 to August 15
Days:    Monday, Tuesday, Wednesday, Thursday
Daily Timeline:
8:30 – 11:30        Math
11:30 – 12:30     Free lunch
12:30 – 1:30        First Year Experience class
1:30 – 4:30          English
Food:  Free lunch and limited snacks provided
This is a great opportunity to build skills and confidence, save some money, and get acquainted with EMCC faculty and staff.  Please refer all questions to Jeremy White at 974-4607 or jwhite@emcc.edu or Marcie Grant at 974-4887 or mgrant@emcc.edu.  Each session is limited to 25 participants and is expected to fill quickly, so please apply immediately.
Applications for each academy will be accepted up until the start date of that academy.
To apply, please fill out the application and send it to:
Student Success Center
Attention:  Marcie Grant
EMCC
354 Hogan Rd
Bangor, ME 04401
or scan and e-mail it to jwhite@emcc.edu
We look forward to helping you get a head start on your future,
Jeremy White
Summer Success Academy Director
974-4607
jwhite@emcc.edu