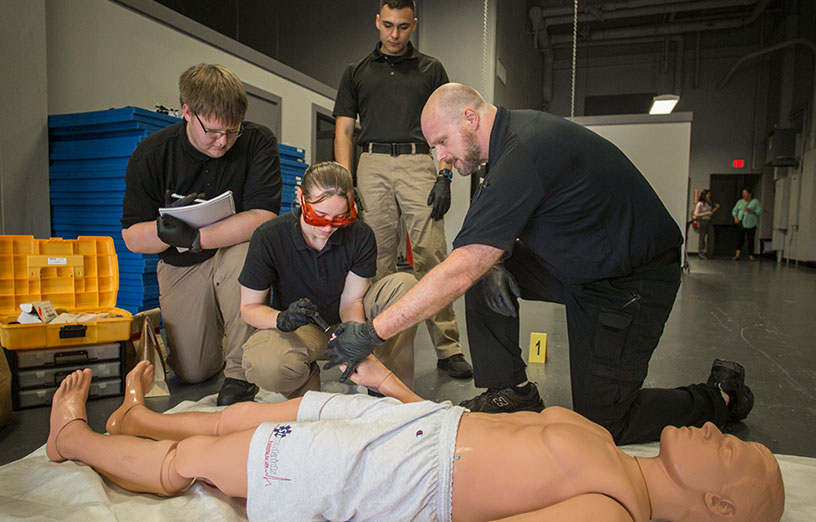 About Our Public Safety Pathway
Public Service careers serve the community and allow you to impact and even save lives, wherever you may live. These careers provide support in sometimes very intense situations. Graduates perform from day one on the job as law enforcement officers, firefighters, and emergency medical professionals.
What training and programs are available?
Short-term Training
EMCC is a leader in delivering short-term training courses that provide learners with opportunities to earn digital badges. When a business approaches us with a need, we're ready to respond.
Visit our non-credit and continuing education opportunities to find the perfect training opportunity!
Associate Degrees & Certificates
Earn a degree or certificate and enter the workforce or continue your education at a four-year college.
Certificate in Corrections
Certificate in Emergency Medical Services
Certificate in Fire Science
START HERE. GO ANYWHERE.
92% of EMCC graduates get a job or continue their education within 3 months of graduation.
LAUNCH YOUR CAREER
EMCC graduates have started their careers at top-notch employers such as:
Municipal Police Officer
County Sheff's Deputy
State trooper
Corrections Offer Probation Office
Fraud investigator
Victim-Witness advocate
Game Warden
Firefighter, Paramedic
Emergency Medical Technician
CONTINUE YOUR EDUCATION
Continue to a four-year college or university for a baccalaureate in criminal justice
Apply to the Criminal Academy (MCJA) Law Enforcement Preservice training Program or Basic Law Enforcement Training Program
EMCC graduates have used our transfer agreements to continue their education at:
Husson University
St. Joseph College
Thomas College
University of Maine
University of Maine at Augusta
University of Maine at Farmington
University of Maine at Machias
University of Maine at Presque Isle
University of Southern Maine
"As a non-traditional student, I felt like an outsider. Everyone in my class was literally half my age. I hadn't stepped foot in a classroom in over two decades. I have learned so much during my time at EMCC. Obviously, I've learned everything necessary to receive my degree in Criminal Justice. But I've also learned to fail gracefully. I've learned to be confident in my abilities. I've learned to accept my successes. But most importantly, I learned that success is not something I could achieve on my own. It's those around me who offer help and support that are truly instrumental in anything that I will ever achieve."
Rebecca P.
Criminal Justice
"I am trying to figure out what I want to do when I grow up! I have always worked jobs in the healthcare field off and on for 11 years and I want to try something different. This has brought me to Emergency Medical Services. I enjoy the fast-paced work and helping people in my community. I couldn't have done this without a great education from EMCC."
Joel F.
Emergency Medical Services