Alumni Spotlight – Kate Blanchard
January 3, 2019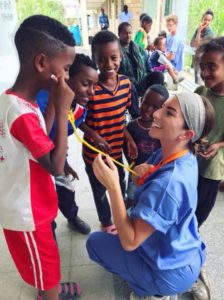 Eastern Maine Community College provides a quality education that prepares students for the rigors of the workforce by giving them the skills to succeed. This truth is showcased by our outstanding alumni, who go forward from EMCC with new skills, a sense of purpose, and the ability to give back to those around them. Katie Blanchard '14 Surgical Technology is a perfect example of this.
When she was 18, she says "there's so much pressure to choose what you want to do for the rest of your life. With college being so expensive, this is a lot of pressure to put on a teenager." Many young adults share in this feeling, so Kate decided that coming to EMCC and taking general classes that applied to the medical field would be a great way to save money and explore different career paths. In taking courses like microbiology, anatomy, and physiology, she met other students who were on their way to associate's degrees for various fields of study. One classmate in particular, who was enrolled in the surgical technology program, told Kate about the program and how much she enjoyed it. Kate decided to look into it and take associated classes and began to feel like she had found the perfect fit, saying that "the surgical technology program was a great way to obtain an associate's degree and secure a job that pays well in a short period of time."
As she progressed in her Surgical Technology degree she came to thoroughly enjoy the small class sizes in which she could communicate easily with her instructors and peers. After graduating she began work at Eastern Maine Medical Center as a certified surgical technologist, and is currently working on a bachelor's degree in biology at UMaine. She hopes to go on to apply to Physicians Assistant schools after obtaining a bachelor's.
Beyond working hard, graduating as an outstanding student, and entering her desired field, Kate has also taken time to give back. She recently went on a medical mission trip to Mekele, Ethiopia where she and her team treated over 1,500 patients. Blanchard expresses that the "experience was extremely humbling" because while she was able to help so many people in need, there were still so many people who couldn't afford the treatment or surgeries they needed because of the extreme poverty in the area. Though, in her time there, the team was able to complete a handful of surgeries, helping so many children and families. In addition to assisting in life-saving surgeries, she also dispersed medication, took vitals, triaged patients, and learned how to inject lidocaine to do dental procedures as she shadowed a dentist for part of the trip. Kate recalls an instructor at EMCC first informing her of mission trip opportunities available to surgical technology students, and ever since, has wanted to take part in one. Blanchard says she is so glad she did because her trip was incredible and she gained so much from it.
Kate Blanchard is a great example of how Eastern Maine Community College can not only help you find your direction, but your passion, and turn that into a career. Kate is well on her way and has done so many amazing things. She encourages those who may be interested in attending EMCC to do so, because it is a great, affordable school that advances your skills to become a strong candidate for your desired career post graduation.
To find out more about our surgical technology field, visit www.emcc.edu/surgtech and apply today!