Electrical & Automation Technology Students Present Senior Projects
April 28, 2021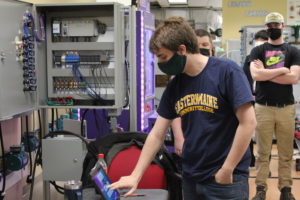 Second-year students in the Electrical & Automation Technology Program presented their senior projects today. Projects included a vending machine, automatic pasta maker, a claw machine, ping pong plinko, and a custom home security system that includes motion sensor lights, a sprinkler system, and voice-activated alarms.
These students wired, programmed, built, and even 3D printed the pieces to these projects.
Many of these students have already been accepted and will be transferring to the University of Maine Electrical Engineering Technology Program in the fall thanks to the 2+2 transfer agreement between EMCC and UMaine.
Others will go right into the workforce in high-paying, in-demand jobs after graduation.