EMCC President Selected as National Designer In Residence
May 19, 2021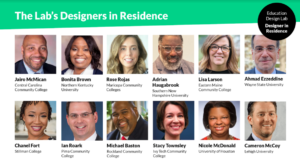 Education Design Lab's diverse cohort of higher education leaders who will collaborate to co-create the future role of colleges in their communities
Bangor, ME (May 19, 2021) — Eastern Maine Community College today announced President, Lisa Larson Ed. D has been selected to join the Education Design Lab's Designers in Residence program. As a part of the program, Dr. Larson will be building on creating dynamic and innovative workforce training options that address the needs of the Bangor region.
Spanning a diverse cross-section of communities, institutional positionality, and lived experience and expertise, the Designers In Residence will work together as a design team to co-create a model for colleges to be regional change agents to close economic and racial opportunity gaps as we move into a post-COVID economy.
"I am honored to be selected to be a Designer In Residence. Our institution has a long-standing commitment to being a catalyst for economic growth in our region, offering thoughtfully designed programs and partnerships that are responsive to both student and workforce needs. But, we can always do more to support students, which includes learning from other innovators across the country," said Lisa Larson Ed. D, President, Eastern Maine Community College. "Within the cohort, we will be able to leverage our collective expertise to develop new insights regarding how higher education can best serve students today and in the future. I look forward to those insights impacting not only our own students but students across the country."
In 2021, 22% fewer students enrolled in higher education than prior to the COVID-19 pandemic, a number that increases to 30% for students from low-income high schools. Simultaneously, 42% of jobs lost during the pandemic may disappear forever, requiring postsecondary education to reimagine how learners are prepared to enter the workforce. In the Bangor region, particular challenges related to aging and rural populations impact access to higher education. The importance of training and re-training a non-traditional population of adult learners is more prevalent than ever for the region looking to fill workforce gaps.
To help address these disparities, Designers In Residence will leverage their collective expertise to co-create a framework that centers on the needs of their learners within a rapidly evolving economy and provide the start of a roadmap for other institutions and innovators seeking to build and scale this system.
"We hope to emerge from this year with design tools that will position the scores of learner success partnerships around the country to seize what we all believe is an innovation moment, coming out of the pandemic," said Kathleen deLaski, CEO of the Education Design Lab. "Colleges recognize that their roles are evolving along with learner views about degrees and employers needs, and with a heightened urgency around what it will take to break down racial and economic barriers to open up livable wage futures for all."
Other members of the Designers in Residence cohort include:
This program is funded by the Bill & Melinda Gates Foundation and views expressed by the program do not necessarily reflect the positions or policies of the foundation. Learn more about the program 
here
.
###
About: Eastern Maine Community College provides the highest quality post-secondary technical, career, and transfer education, and serves as a dynamic community and economic resource.
About Education Design Lab: Education Design Lab is a national nonprofit that designs, tests, and implements unique higher education models and credentials that address the rapidly changing economy and emerging technology opportunities. The Lab demonstrates where technology, rigor, and design can improve opportunities for historically underserved learners to maximize their potential in the higher education system.
Education Design Lab works across disciplines and alongside schools, employers, entrepreneurs, government, foundations, nonprofits, and innovators. The organization has significant experience managing national and local learning cohorts, working with organizations such as the United Negro College Fund, Walmart, Ascendium Education Philanthropy, American Council on Education, and the ECMC Foundation. Learn more: 
www.eddesignlab.org
.