Governor Mills Joins EMCC Women in Leadership Panel
March 21, 2022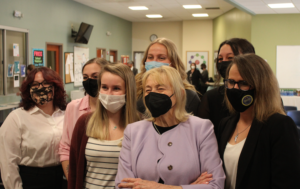 We would like to thank Governor Mills for visiting EMCC to participate in the Women in Leadership Panel alongside Marwa Hassanien and Tracie Travers. Marwa is the Director of Diversity, Equity, and Inclusion at Northern Light Health and the Chair of the Bangor School Committee. Tracie serves as Vice President of Workforce Development at Jobs for Maine Graduates (JMG).
Each panelist talked about the path they took to get where they are. Marwa discussed being the child of immigrant parents, Tracie shared that she had her daughter at 16 and how she tackled going to college, and Governor Mills recalled a time when she was the only woman in the room full of legislators and attorneys.
Students were able to ask questions to the panelists and they took their time in answering thoughtfully and stayed after to take photos.
Coverage of the event can be found with the following stations: