High School Nursing Pathway Signing
March 21, 2022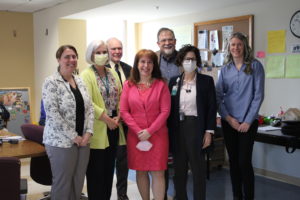 EMCC Nursing
, 
United Technologies Center (UTC)
, 
Hancock County Technical Center
 (HCTC), 
Bridge Academy Maine
, and Northern Light Eastern Maine Medical Center, signed an agreement last Friday forging a new pathway for high school students who want to get a headstart on their nursing degree.
This program benefits high school students at United Technology Center, Hancock County Technology Center, and Bridge Academy of Maine. Pilar Burmeister, EMCC Nursing Department Chair, said this will be a direct pathway to EMCC. Once students are enrolled in the nursing program, they will only have two years to complete before graduation.
"For our students, it's going to be another option for them to be able to continue to make that same connection as Amy mentioned from high school to CTE to the next phase of their career path of education," said Amanda Peterson, UTC director. "What it also does though, it connects to an employer rather than having the students do it on their own. That makes it even more important and more valuable."
EMCC, Northern Light Health, and Bridge Academy have partnered to make this educational program affordable for students.
Burmeister said students will be debt-free once they finish the program.
"They also receive their CNA while they are in high school. They will be able to work as CNAs, which is helpful coming into the nursing program because they get to see what nurses do and are more aware of the role," said Burmeister.