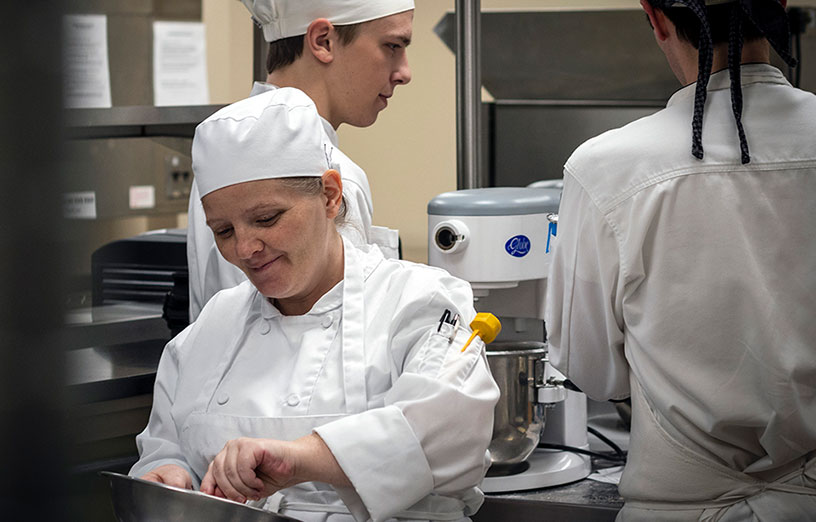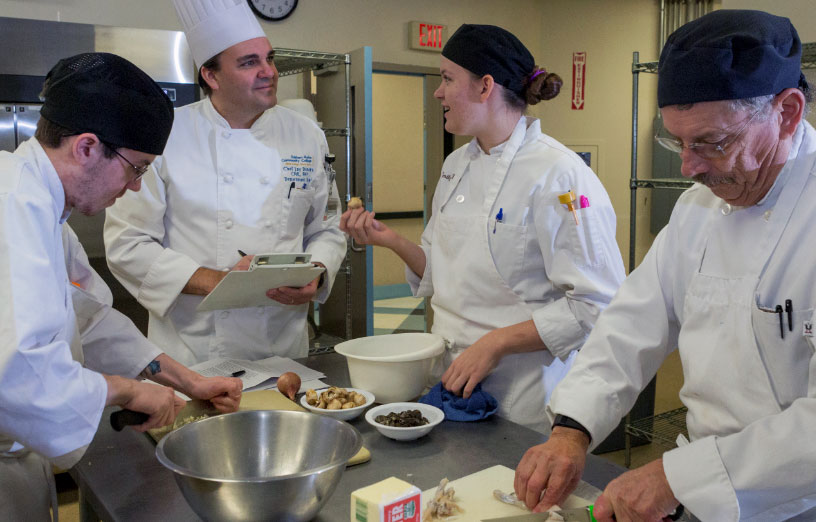 About Our Business & Hospitality Pathway
Starting your own business or work in a business associated with food, great customer service and exciting travel, Business and Hospitality can provide you with the knowledge and skills you need to ensure your success. Whether you want to run a business, be an accomplished chef, manage a hotel or get into sports management, our programs prepare you for successful careers or continued study in your field.
START HERE. GO ANYWHERE.
92% of EMCC graduates get a job or continue their education within 3 months of graduation.
LAUNCH YOUR CAREER
EMCC graduates have started their careers at top-notch employers such as:
Bangor Savings Bank
Cross Insurance
Darling's Ford Volkswagon
Eastern Maine Community College
Husson University
Northern Light – Eastern Maine Medical Center
Quirk Auto Park
Machias Savings Bank
CONTINUE YOUR EDUCATION
EMCC graduates have used our transfer agreements to continue their education at:
Husson University
Maine Maritime Academy
Thomas College
University of Maine
University of Maine at Augusta
University of Maine at Farmington
University of Maine at Machias
University of Maine at Presque Isle
University of Southern Maine
What training and programs are available?
Short-term Training
EMCC is a leader in delivering short-term training courses that provide learners with opportunities to earn digital badges. When a business approaches us with a need, we're ready to respond.
Visit our non-credit and continuing education opportunities to find the perfect training opportunity!
Associate Degrees & Certificates
EMCC's associate degrees and certificates prepare students for immediate employment or to transfer to a number of four-year institutions. EMCC is the right choice if you are looking for a low-cost, quality education that will lead to a bright future.
Associate in Applied Science Degree in Business Management – Career Option
Associate in Applied Science Degree in Business Management – Transfer Option
Associate in Applied Science Degree in Culinary Arts
Associate in Applied Science Degree in Restaurant and Food Service Management
Certificate in Food Service Specialist
Certificate in Small Business Development
"Education and hard work are my two highest values in life. I value my education … I am eternally grateful for the opportunity to continue learning through EMCC. I look forward to continuing on the journey of becoming a valued member of the food service industry."
Mackenzie H.
Hospitality and Tourism
"I am enrolled in the Business Management program at Eastern Maine Community College and intend to complete my Bachelor's degree in Accounting at the University of Maine. As a non-traditional student, juggling a full-time job and academia can certainly prove to be challenging. I work in Human Resources for a local nonprofit organization that supports the Indigenous Communities of Maine. I understand the importance and the value of education. For me, it means the opportunity to better support my family and to empower others to never give up."
Juliette M.
Business Management