Building Construction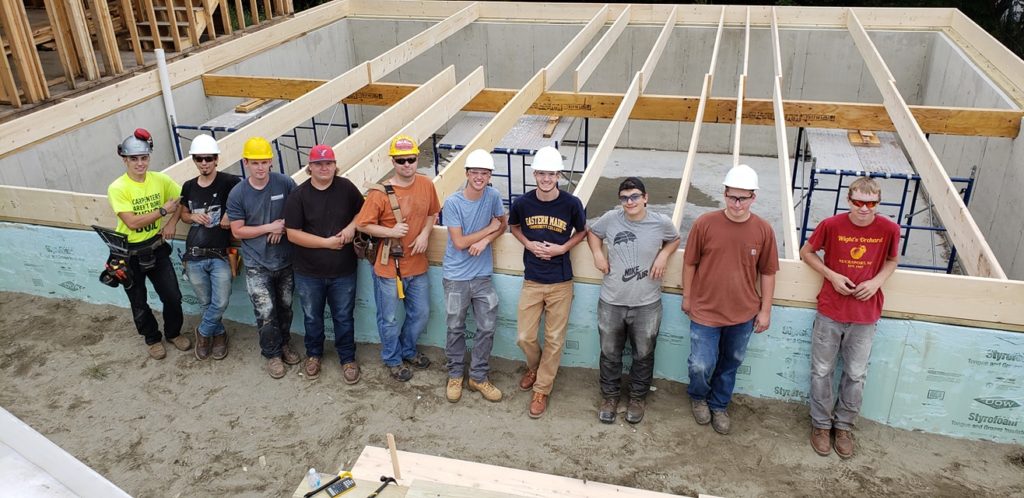 Building Construction Technology provides students with one- and two-year options tailored for differing occupational goals. Students can choose courses in drafting, construction layout, estimating, management, residential construction, energy-efficient building methods, construction safety, cabinet-making, and interior finish. Students apply their studies by building a house in each year of their program.
The Associate in Applied Science Degree program is designed for students who are planning for leadership positions within the construction industry. The program encompasses studies in cabinetmaking and millwork, residential, commercial and industrial construction. Building science, construction estimating and scheduling, building codes, quality control and safety are integral components of this program. Students learn blueprint reading, computer aided drafting and design, construction layout, and carpentry skills. Students apply these skills by performing field layout projects, constructing a residential building, manufacturing and installing cabinetry, and designing, placing and finishing concrete.
The Certificate program is designed to prepare students for entry-level positions as a carpenter in the residential building field, as well as part of a pathway towards the associate in applied science degree. Students study blueprint reading, drafting, safety and residential construction practices and apply these studies by building a residential building.
---
Key Learning Objectives
Graduates with the Associate in Science Degree or the Associate in Applied Science Degree in the Building Construction Program will function at an entry-level position in the construction industry, but with the skill necessary for later promotion into a mid-management level position. Skills will include:
Estimating of costs and time for construction projects.
Managing construction crews.
Blue-print reading and drafting.
Construction skills needed for commercial, industrial, and residential carpentry.
Project layout including uses of transits and levels.
---
Prerequisites
AS Program: Algebra I, Algebra II, Geometry, and Physics or Lab Chemistry required.
AAS Program: Algebra I required; Algebra II, Geometry, and Physics or Lab Chemistry desired.
Certificate Program: Algebra I required.