Emergency Medical Services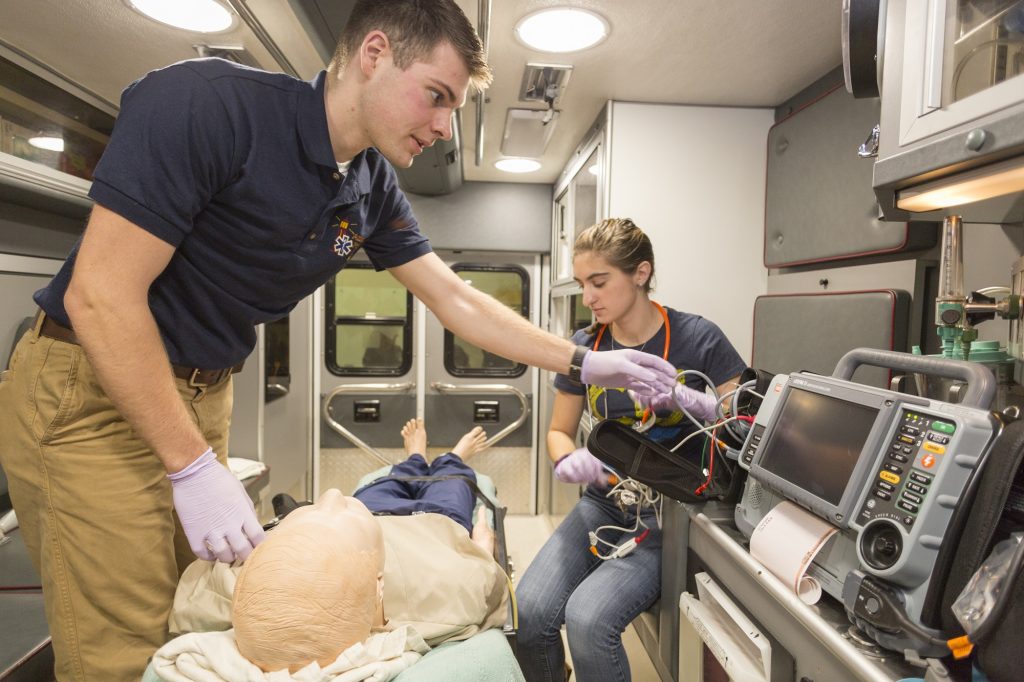 Prerequisites Required for Certificate or Degree Program
High school level Algebra I, and science course with lab, as well as current EMT-Basic licensure required for admission to either the certificate or associate in applied science degree in Emergency Medical Services.
---
The Emergency Medical Services (EMS) Technology program provides the opportunity to earn a certificate and/or an associate in applied science degree to individuals who work with ambulance services, rescue squads, fire services, and other first responder organizations.The program augments a nationally recognized technical core with general education courses, and is typically taken on a part-time basis over three to four years.
Click here for an overview of EMS course offerings.
Click here to view program pass rates for 2018-2020.
Awards of Completion are given at three levels as students complete technical courses and are prepared to sit for State Licensure. These three Awards of Completion are:
Award for EMT. EMS123 is required.
Award for Advanced EMT. EMS123, EMS201, EMS202, EMS205, and EMS206 are required.
Award for Paramedic. All Advanced EMT courses as well as EMS208, EMS209, EMS211, EMS212, EMS213, EMS214, EMS215, EMS216, and EMS217.
Emergency Medical Services Technology establishes the educational path to rewarding careers for Maine Licensed EMT and EMT-Paramedics.

---

Learning Objectives

Graduates with the Associate in Applied Science Degree in Emergency Medical Services will function, following completion of the State and National Testing Requirements, as entry-level paramedics for ambulance and rescue squads with the following skills:

Cardiac skills including cardiac pacing and team efforts in resuscitation.
Use of defibrillators and EKG machines.
Medical administration.
Preparation for environmental and psychological emergencies.
Labor and delivery.
Care of the neonate.
Airway management.
Chest decompression.
Cricothyrotomy.


---